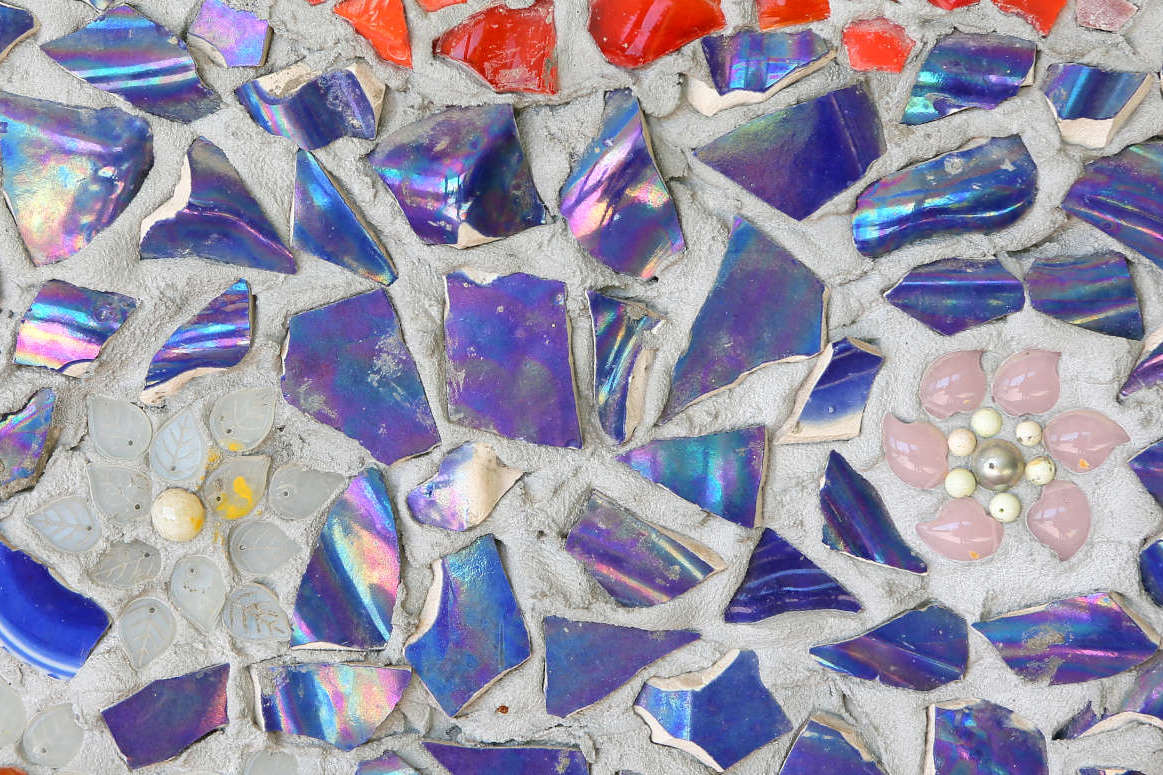 Peaced Together
In the hectic pace of modern life it can be difficult to find space, both physically and mentally, and so we are offering some taster sessions from a course called Peaced Together.

The Peaced Together sessions are designed to help you relax, reflect and experience some space in an often busy world. There are two options currently available; a mosaic project over two sessions, or a weaving project in a single session.

We know from both research and practice that when you engage in the process of making something using your hands it allows your brain to move from a stressful mode to a more relaxed place - enabling your body to produce neurochemicals that support wellbeing.

'Life's memories are like many scraps of fabric. There are beautiful exotic pieces; there are mundane, ordinary, nothing special pieces and there are pieces we don't like, but all are part of our story, not to be relinquished to the scrap heap. Watch what happens when they become creatively and intricately 'peaced' together.'

Craft could be described as adult playtime, and play is something we can often leave behind when we become adults - but when we actively engage the play centres in our brain it reduces stress. In fact play is one of the most successful ways to reduce stress responses in the mind and the body.

The sessions are held in small supportive groups that are great for connecting with others as much or as little as you wish - as there is always your craft to focus on if you find chit-chat difficult. We are keen to focus on the process of making something as much as the finished product, but you will create something you are really proud of. Mosaic and weaving are both crafts that involve performing movements that are both rhythmic and repetitive - therefore the very process of making your piece helps your system relax.

People who have done the course before have commented on how liberating the act of smashing the china feels when creating the mosaic piece. We all hold tension for various reasons in our bodies and some of this can be released in a healthy way as you use the hammer to break the china. The treadmill of life such as housework, parenting, and other daily demands can at times feel like thankless tasks that don't show immediate rewards, but making something beautiful is not only enjoyable but can help you feel immediate satisfaction for the effort expended - and have a piece of art to remind you of that moment.

Session Facilitator

Rachel is a qualified teacher with many years working with both children and adults. For the last 10 years she has run courses and support groups for parents (often specifically for those with children with additional needs) in different children centres around Croydon. Rachel has facilitated the creative Peaced Together course since 2014 and loves seeing the therapeutic benefits of craft as women relax and enjoy making beautiful things together - there's a hope that arises as women reflect on life through listening to quotes and stories, often finding strength to overcome difficult past experiences. She also enjoys helping women find their voice through poetry and scrapbook journalling.