Is Tummy Time Stressing Everyone Out???
Tummy time has become part of the standard advice given to new parents but it can be anything but standard when your baby just won't tolerate it even for a few seconds. The very idea of it can cause new parents to break out in a sweat and create a lot of stress for babies too.  Some babies need a little more support to help them tolerate being on their tummy on a flat surface and holding their head up against gravity. At Encounter Baby we will introduce you to techniques that can help with this struggle and even turn it into a fun time of connection with your baby.
Top tip…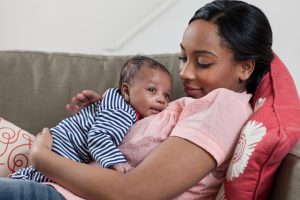 A good alternative starting point for tummy time is to start with your baby on your chest or tummy and relax back in a chair of sofa. Your baby has a natural fascination with human faces and will be drawn to look up to catch your eye or check out your face. In the early weeks of life a baby's vision is limited to around 20cm or about the distance from your nipple to your eyes, interestingly, so lying on your chest is a good position to be able to see you. In this position they also receive a comforting touch input from your body that is much more reassuring and comforting than the floor or a play mat. Research has shown that when we combine touch with any other sensory or motor experience more connections are made in the brain.
Don't worry that this position isn't "real" tummy time – it still is, and your baby is still resisting gravity and beginning to strengthen the muscles in their neck, shoulders, arms and trunk, as well as organising their nervous system.
There can of course be other factors that cause problems with tummy time, and if this is the case, at the sessions we will be able to help you identify what may be behind your child's struggle.
Why is Tummy time considered so important?
Put briefly, it helps organise the nervous system and provides foundational development of the muscle groups and motor pathways for rolling over, pulling up and sitting. It also stimulates hidden systems such as the vestibular, which is key in balance and is also linked to the visual and auditory system functions.
You may find the video on this site helpful  – https://pathways.org/topics-of-development/tummy-time-2/